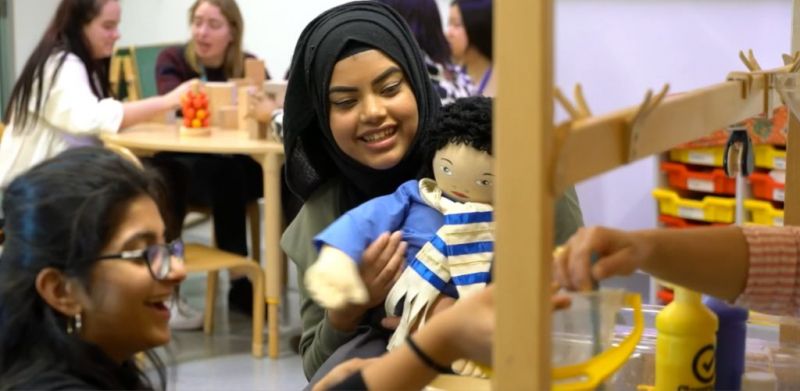 Upon embarking the first floor of the Dreadnought building, situated in the Greenwich campus, it is hard to miss the display located in the window of the Early Years nursery room. Bright, vibrant and eye catching, the displays are created by the students and updated regularly. They can contain information about anything from Safeguarding to Loose Parts Play.
The nursery has been in its current location for three years. It contains a number of resources, specialised books and equipment that allow for the students to plan and organise activities for young children. The room is used to support theoretical knowledge and students can use it to try out teaching skills. These can include: art, science, maths and literacy as well as creative experiences and reading books to groups of children. It is also the place to organise materials like dough, sand and water. All activities that would suit young children.
The space, which is referred to by staff as a "studio" can also be used as a quiet space. This is especially useful for students who may find busy campus life overstimulating and be looking for somewhere to relax for a while. There are also plans to allow the local community to make use of the impressive space, with activities like Baby Massage planned for the future.
Jill Harrison, Early Years Programme Leader said "It is a lovely space that offers deep learning. It also allows students to practice skills that they can then use to turn theory into practice."
We spoke to some third year students who are in the final year of their course. The students were extremely positive about the Early Years studio referring to it as "a setting away from a setting" and as a "calm, relaxing space to explore". Students also praised the space as an area where they can speak to tutors on a one-to-one basis and use it as a buddy network, in order to support newcomers.
To see what Early Years courses are available, click here.