We have introduced these benches for students and staff to use. If you are having a bad day, or would just like a chat, take a seat. However, if you are having a good day and you see someone sitting on the bench on their own, please take ten minutes to say hello.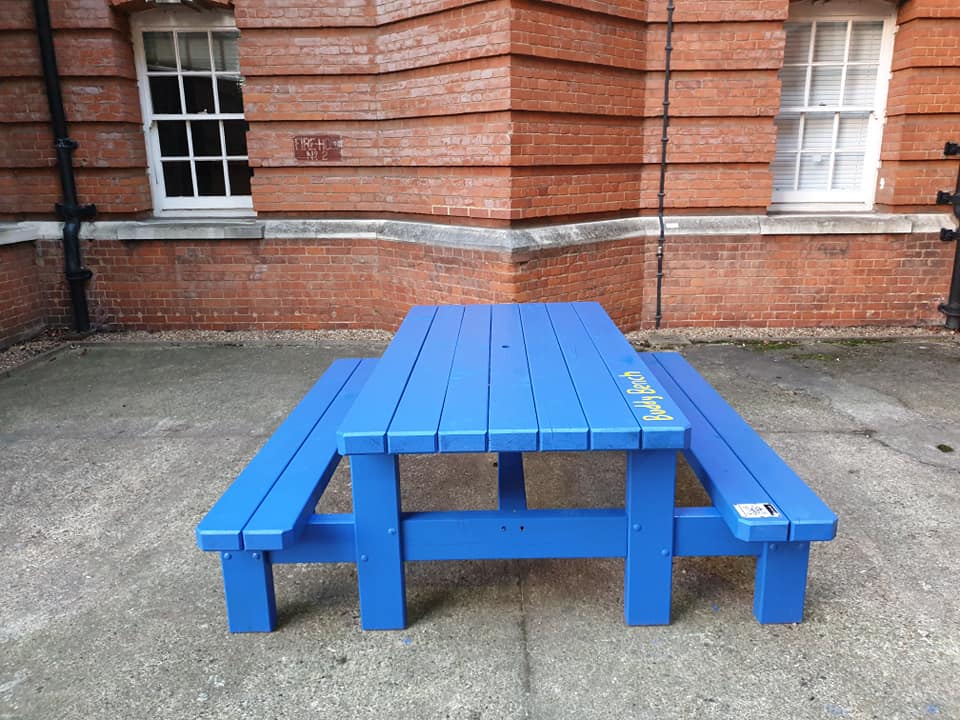 The Buddy Benches (BBs) are a brand new, shiny wellbeing initiative. The Buddy Benches were introduced to our three campuses between December 2021 and February 2022. They are very distinct as they are painted in the STAART colours – blue with yellow writing. There is a Buddy Bench on each campus:
Avery Hill – outside the Dome.
Greenwich – outside of Dreadnought.
Medway – outside of Pembroke North.
Some of you may be aware of Friendship Benches in infant and primary schools for children who might be shy, anxious, isolated, or having a bad day. These benches were the concept behind our benches. The Buddy Benches were created by STAART in partnership with the student ambassador office, Sodexo, Facilities & Estates. The purpose of the benches is to create a safe space for staff and students who maybe having a difficult time. However, from the 3rd March 2022, the benches will be a joint initiative between STAART and the Disabled Staff Network (DSN). This partnership will ensure that both students and staff know that they are welcome to use the bench. Also, we will be asking for donations of blue planters, yellow planters, small shrubs, bulbs, flowers and herbs to place around the benches to make the area a bit more pleasing. We also have two STAART Ambassadors, Dan and Gesiele, who have a responsibility for the maintenance of the benches and foliage.
Here are a few suggestions to keep everyone safe:
Please show anybody at the bench your UoG staff/student ID card for safeguarding.
Please do not discuss anything which may trigger the other person in a negative way.
Do not disclose names of other people you may be discussing.
There is information at the bottom of this text about safeguarding concerns*.
Phone 999 for immediate mental health concerns.
Phone 111 for non-immediate mental health concerns.