09 JUNE 2022
Digital Construction Week
University of Greenwich staff and students had a significant contribution to the Net-zero Stage at the Digital Construction Week in May 2022. Digital Construction Week (DCW) is one of the largest UK events dedicated to digital construction, engineering, design, manufacturing, and operation.
Dr Mohammad Sakikhales introduced the ideology of the De-built Environment as a social movement and policy-making paradigm aimed at finding a radically unique way of looking at construction projects to create a balance between humans and nature and achieve real sustainability. De-built environment rethinks houses, neighbourhoods and cities. It explores the ideas of circular economy, sharing economy and social justice to reimagine the construction and infrastructure industry and create a new narrative for the built environment.
Burçak Turan, MSc Sustainable Building Design and Engineering student and the co-lead of ZERO Next Gen, coordinated a panel discussion between the Next Generation and industry leaders. This session questioned the industry on why is change not happening faster? Is the construction industry ready for radical change? Have we already damaged our planet to the point of no return? How can I make a change by myself? And where should I start?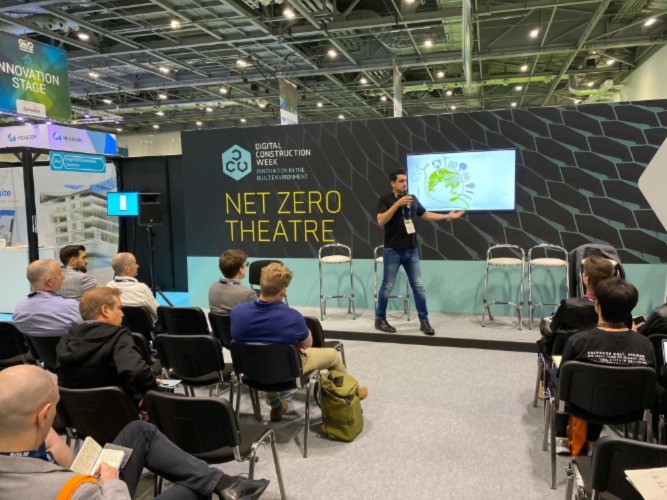 ---
26 APRIL 2022
PhD Student Wins 3MT Faculty Heat
Aquaponics: Earth to Mars
The University of Greenwich has taken part in the Three Minute Thesis (3MT) competition over the past few years, celebrating the exciting research conducted by our PhD students. Congratulations to Lorenzo Fruscella in winning the Faculty heat! Lorenzo successfully explained his exciting research in three minutes, in a language appropriate to a non-specialist audience.
On May 17th the University competition will take place, where the winners from each faculty will compete with one another; the winner will go on to the nationals.
Watch Lorenzo's presentation below:
---
20 OCTOBER 2021
Aquaculture Europe 2021, Madeira
PhD Student, Lorenzo Fruscella recently presented his work on 'Soil-Based Aquaponics: The Effects Of Soil Addition As Investigated In Four Different Trials' at this year's Aquaculture Europe Conference, held in Madeira.
The European Aquaculture Society conference is held every year somewhere in Europe, and gathers academics, entrepreneurs, producers, and in general experts in the field of aquaculture in Europe. This year Lorenzo presented an overview of four different experiments that he has carried out this year, and focussed on one of them, an experiment where he investigated the growth of onions fertilised with fish effluents vs conventional manure. All four experiments revolved around the theme of the exclusion of aquaponics from organic certification. In the onions experiment, Lorenzo aimed at challenging the regulation that currently allows manure use in organic agriculture, but prohibits fish effluents (fish water and sludge). The results revealed the viability of fish effluents as a mean of fertilising crops, showing the superiority of fish water over conventional (horse) manure, producing more vigorous growth and larger plants and bulbs.
Read Lorenzo's presentation here: Soil-Based Aquaponics: The Effects Of Soil Addition As Investigated In Four Different Trials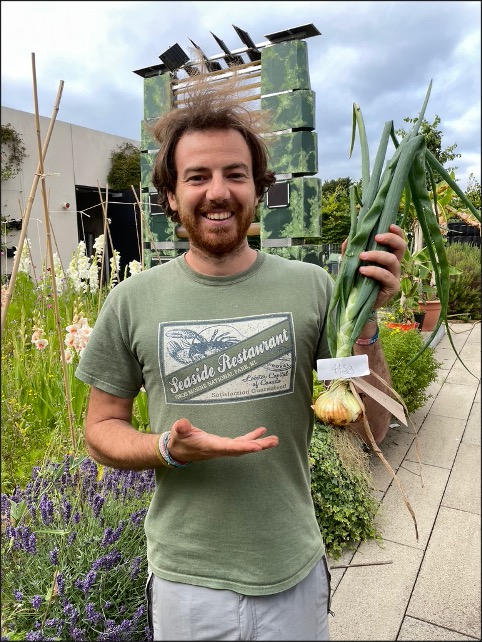 ---
24 SEPTEMBER 2021
Reinforced Efficiency for Carbon Reduction and Cost Savings Seminar
Dr George Agyekum-Mensah, Associate Professor in Surveying Practices, will be speaking at the 'Reinforced Efficiency for Carbon Reduction and Cost Savings' Seminar, hosted by British Association of Reinforcement on 30 September 2021.
Attendance is free of charge. For bookings and further information, email condialogue@aol.com.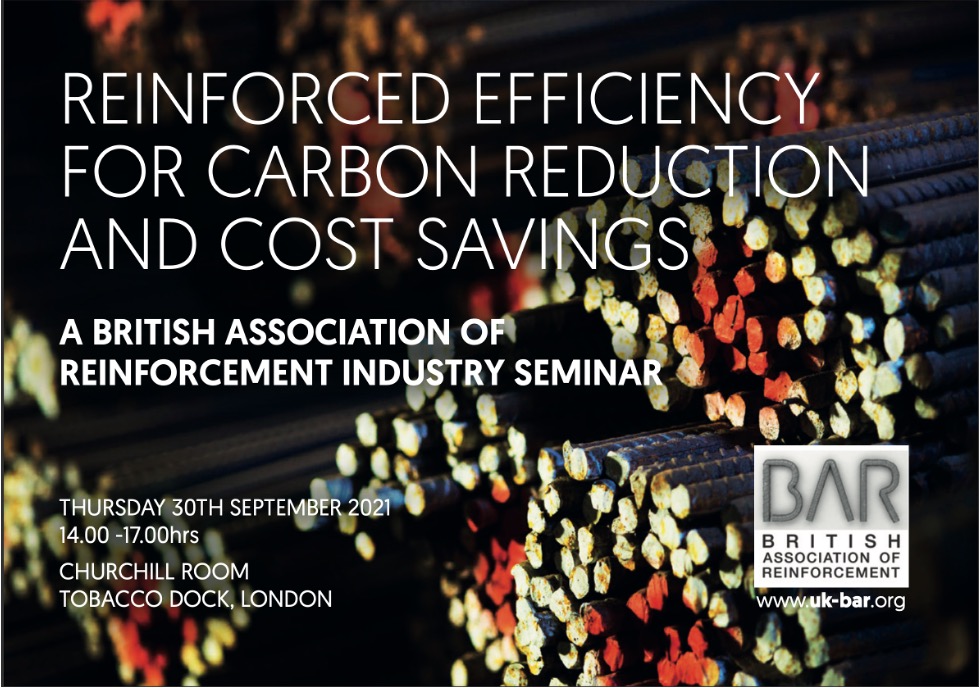 ---
13 SEPTEMBER 2021
Sustainable Architecture and the Fight Against Climate Change
Dr Benz Kotzen, Associate Professor, School of Design, features in University Business magazine showcasing the rooftop gardens at Stockwell Street.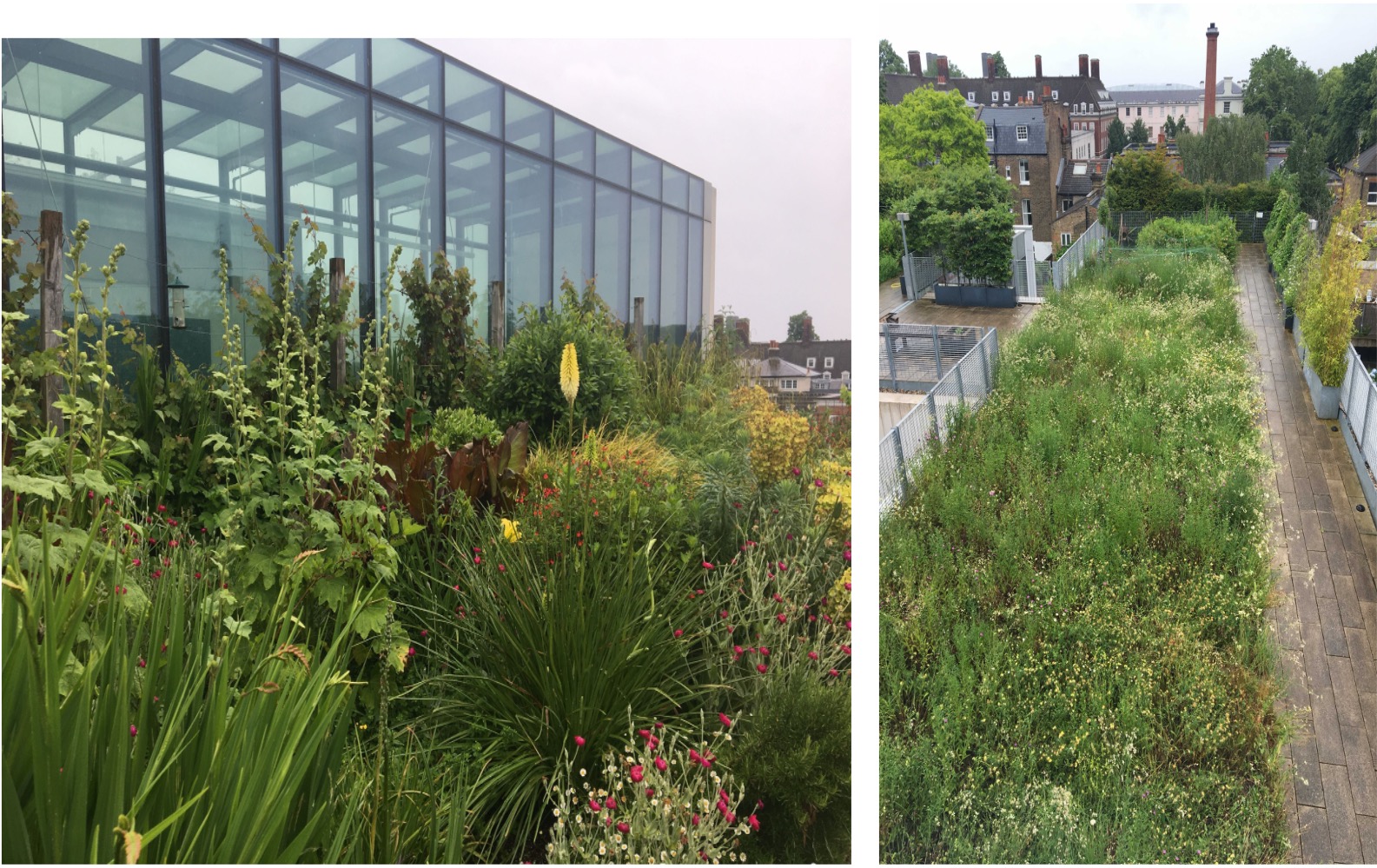 Rooftop Gardens at Stockwell Street, Greenwich
---
Critical Analysis of Building Performance Benefits and Cost Comparison of Concrete, Steel and Timber Framed Building
Recent KTP report for The British Association of Reinforcement by Dr George Agyekum-Mensah, Associate Professor & Head of Construction, Property and Surveying Practices.
Click image to read: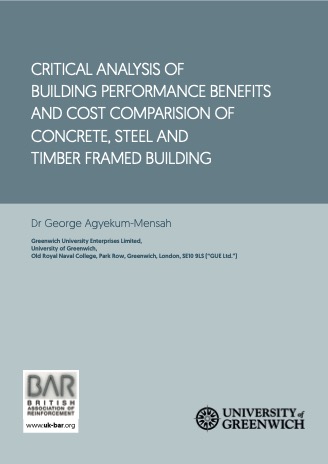 ---
CIOB Global Student Challenge Update
The Chartered Institute of Building (CIOB) Global Student Challenge is an annual competition that challenges students in built environment to run a virtual construction company. The competition utilises MERIT, an online game that simulates the management of a construction company. There are six weekly rounds in the Early Years stage of the competition and the top six teams enter the final. The winning team will receive £2,000 in prize money at the 2021 Members' Forum in Sydney (currently virtual forum) and receive mentoring from the leading experts in the industry.
Our team managed to successfully pass the Early Years stage after competing with 35 teams from various universities around the world and become one of the finalists.
https://gsc.ciob.org/finalists/
Our team is called Greenwich Construction (GC) which is a diverse and inclusive team made up of three hardworking, committed students who want nothing but the best.
Biliamin Bakare-Tinko: Ben is an undergraduate student of Construction Management. He is full of entrepreneurial spirit and very competitive. He is the group team leader and is overseeing the Financial and Personnel departments of GC.
Giovanni Bortolin: Giovanni is studying Quantity Surveying and takes a particular interest in everything related to digital construction. He likes critical thinking and how company departments interact with each other, therefore takes responsibilities for managing the Overheads, Estimating, and Bidding departments of GC.
Klaudia Meta: Klaudia is a postgraduate student in Construction Project Management. Previously working as a Structural Engineer, she decided to follow a career in management. She enjoys leadership and lays a lot of emphasis on the soft skills of a manager. Having technical experience in construction, she is managing the Construction Department of GC.
About Greenwich Construction (GC): As complete newbies with absolutely no idea about what the game was all about, the team found themselves competing against the best teams in the world. However, with a strong focus and determination to succeed, they have progressed to the finals and will not rest on their laurels. The team's reason for taking part in the competition is that it gives them the learning experience of blending classroom theory with the practice of running a Construction Company.
The team is very grateful to their tutor Dr Mohammad Sakikhales for his support in this challenge.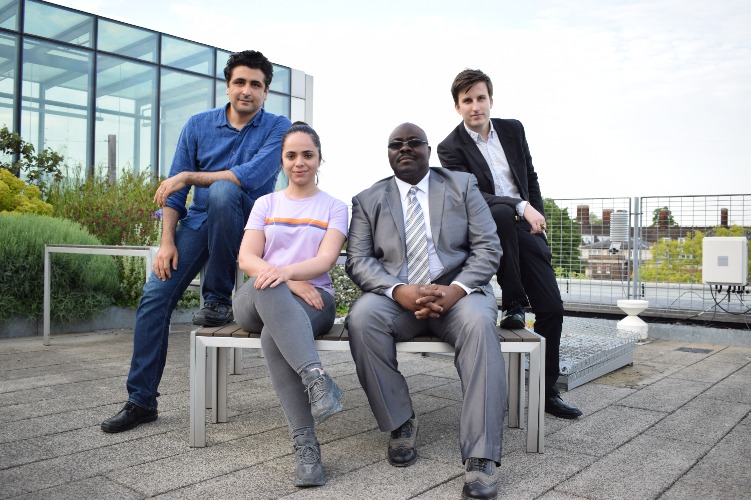 Greenwich Construction Team
---
Congratulations to GRE Award Winners from INTENT Research Group
At this year's Greenwich Research & Enterprise (GRE) Awards & Celebration Event, Benz Kotzen and Sarah Milliken won the Sustainable Future Award for their groundbreaking work in Aquaponics. The virtual event took place on 12th May 2021 where colleagues heard about some of the impactful research underway at the University.
The EU Aquaponics Hub project, chaired by Benz Kotzen, took place over 4 years and brought together over 90 experts from 30 countries and 145 working group participants, and resulted in 5 conferences, 24 collaborative papers and 58 videos with hundreds of hours of knowledge exchange. The final outcome of this project is an authoritative open access book co-edited by Benz.
Sarah Milliken designed and developed the first ever aquaponics curriculum specifically for higher education students called 'Aqu@teach' . The project focused on aquaponic food production – growing fish and plants in a closed loop system. The curriculum was designed to equip students with the necessary expert knowledge and skills, as well as digital, entrepreneurial, and transferable skills.
---
Aquaponics Does It Again!
Last week aquaponics as a new, innovative, and sustainable food production system was featured in the Archers on BBC Radio 4 and today (Wednesday 12th May 2021) PhD student Lorenzo Fruscella, wins the Faculty of Liberal Arts & Sciences best poster prize in the GRE Awards for his research into soil based aquaponics. Lorenzo's research in this area is intending to reveal the benefits/disbenefits of adding soil to an aquaponics system, in part, as part of a programme towards organic certification.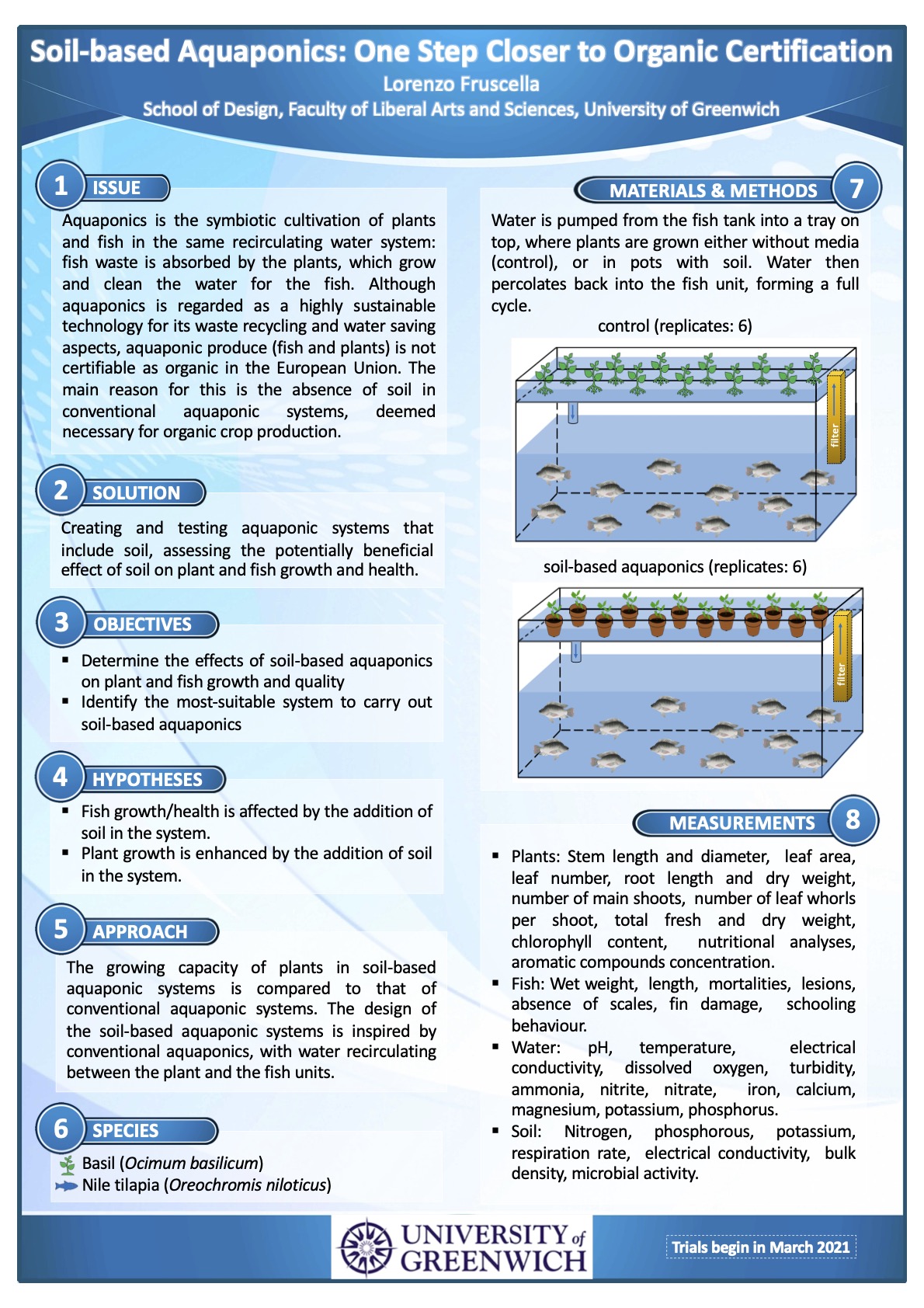 Lorenzeo Fruscella
Soil-based Aquaponics: One Step Closer to Organic Certification
The experiment involves fish and plants grown in aquaponic conditions, in order to investigate the effects of soil inclusion in aquaponics. This in turn is being done to bring aquaponics one step closer to organic certification, since soil inclusion in one of the pre-requisites for producing organic vegetables in the European Union.
---
CIOB Global Student Challenge
Greenwich Construction Team competing in the CIOB Global Challenge!
The Global Student Challenge is an annual competition run by the Chartered Institute of Building that provides Built Environment students with an opportunity to apply their learning to a real-world scenario of running their own virtual construction company.
They are competing every week in a league with thirty-five teams from all around the world. Our student team has a very good chance to reach the final as part of the top six teams.
This dream team truly represents the Built Environment portfolio at the School of Design. Not to put too much pressure on them, but we hope they can bring the cup home!
Good Luck!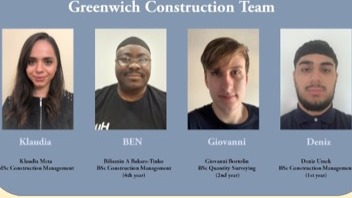 ---
PhD student Lorenzo Fruscella, has reached the 4th and final stage of the University's Enterprise Challenge 2021 at which Lorenzo will pitch his idea 'Growing Futures' alongside 9 other finalists. Lorenzo's proposal focuses on training young offenders and prisoners in aquaponics, helping them to learn new skills, find employment, thereby reducing reoffending.
The Enterprise Challenge 2021 Final takes place on Thursday 25 March 2021 at 4pm. Register for the event HERE.