Key details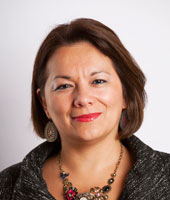 Professor Ana Marr
Professor of International Development Economics
---
Professor Ana Marr is Professor of International Development Economics, conducting research on the interaction between finance, development and poverty reduction. She joined the University of Greenwich in 2002 and presently works for the Business School and for the Natural Resources Institute. Prior to this, she held research positions at the London School of Economics, the Institute of Development Studies at the University of Sussex, and the Overseas Development Institute in London.
Professor Marr is currently Principal Investigator of a major three-year research project on optimal packaging of finance for smallholders, jointly funded by the Economic and Social Research Council (ESRC) and the UK Department for International Development (DFID), leading a large international team of researchers from Europe and Africa. Previously, Professor Marr has been Principal Investigator of numerous large-scale research projects, including a four-year project on the dual goals of microfinance funded by the Leverhulme Trust (2009-12), a three-year ESRC-funded project on microfinance and poverty reduction (2000-2), and a three-year DFID-funded project on financial markets for the poor (1997-9). She has also been the Director of the International Microfinance Research Group since 2007.
Her research has helped advance knowledge particularly in the quest for effective financial services and mechanisms that can contribute towards reducing poverty in developing countries. The range of Professor Marr's research has been applied in a variety of contexts, including urban micro-enterprises, fisheries communities, agricultural smallholder farmers and larger multinational organisations. The value of her research has become evident in a large number of peer-reviewed publications, conference papers and workshop presentations, which have produced positive impact on academia, practice and policy-making, and have guided the industry towards effective ways to combine finance with other inputs.
Professor Marr's extensive international research experience includes field research in Asia (Afghanistan, Bangladesh, India and Thailand), Africa (Kenya, Sierra Leone, South Africa, Tanzania, Zambia and Zimbabwe) and Latin America (Bolivia, Colombia and Peru). Funding for her research has been competitively obtained from DFID, ESRC, World Bank, the German Aid Agency (GIZ), European Union (EU), CARE-International, NEPAD and Farm-Africa, among others.
Professor Marr is a Fellow Member of the ESRC Peer Review College and a member of the Editorial Advisory Board of the Iberoamerican Journal of Development Studies, and of the Editorial Advisory Board of the journal Economics. She also acts as reviewer for the international journals World Development, Journal of Development Studies and Journal of International Development and publishes extensively on related research issues.
She holds a PhD from the School of Oriental and African Studies of the University of London and an MSc in Economics from the London School of Economics – both supported by full scholarships, awarded by the Economic and Social Research Council and by the London School of Economics, respectively.
Research and Scholarship interests
Professor Marr's areas of research include: Microfinance, financial market development, wholesale finance, pro-poor credit, rural finance for smallholder farmers, poverty reduction, business development services, social capital, development economics, financial services for enterprise development, entrepreneurship, finance for SMEs and small businesses, private capital flows, foreign direct investment, international trade and financial institutions' conditionality.
During the past 20 years, Professor Marr has advanced knowledge particularly in the quest for effective financial services that can help reduce poverty in developing countries. Her approach is to combine qualitative and quantitative research methods and work in collaboration with international partners in Africa, Asia, Europe and Latin America. In this manner, her research has been influential at the academic, practice and policy-making levels. The value of her research work lies in identifying possible balance between the power of microfinance in achieving financial sustainability while trying to help reduce poverty, and how this can be done via effective partnerships. This has led her to enter into new research areas. Thus, Professor Marr is now investigating optimal packaging of financial services that can be designed and tested in order to help increase agricultural productivity in developing countries. This promises to be a groundbreaking piece of research and it is being funded by ESRC-DFID.