Key details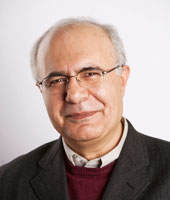 Professor Mehmet Ugur
Professor of Economics and Institutions
---
Since joining the University of Greenwich in 1990, Mehmet Ugur has been involved in research, teaching and management at different levels. His management responsibilities include research coordination, programme coordination, senior management team membership, and membership of the enterprise and research committee.
In addition to curriculum development for and teaching of undergraduate and postgraduate courses, he has led and managed research projects funded by the European Commission, the Department for International Development (DFID), and the Economic and Social Research Council (ESRC). He is also co-convenor for the Cochrane and Campbell Collaborations Economics Methods Group (CCEMG) and coordinator of the Centre for Economic Performance, Governance & Regulation (CEPGR) in the Business School.
He teaches open economy macroeconomics, international economics and finance, economics of the European union, monetary integration in Europe, European public policy, regulatory institutions of the world economy, and statistical methods for research. He also supervises PhD students working in economic governance and performance; corporate governance and firm performance; governance, regulation and innovation; and growth and income distribution. He has examined PhD theses internally at the University of Greenwich and externally at Essex, Keele, Leicester, Manchester and Warwick universities.
Mehmet has method specialism in meta-analysis, a statistical method of evidence synthesis in economics, public policy and medical care. He is co-convenor for the Campbell and Cochrane Collaboration Economics Methods Group (CCEMG) – an international network of individuals with an interest and expertise in approaches to evidence synthesis that combine economics and systematic review methods. The group contributes to method development and provides guidance, training, peer review and advisory support for economics components of intervention reviews.
Mehmet is a member of the Greenwich Political Economy Research Centre (GPERC) at the University of Greenwich, which aims to conduct cutting-edge research on complex economic challenges and provide socially-relevant solutions. He is also a member of the Meta-Analysis of Economic Research Network (MAER-Net), an international network of scholars committed to improving economic science through meta-analysis. He coordinated and hosted MAER-Net's 2013 Colloquium at the University of Greenwich.
Mehmet acts as an editorial board member for academic journals and as advisory board member for research centres. His consultancy engagements include International Budget Partnership (Washington), Routledge (UK), and Centre for Innovation and Competition-based Development Studies (Turkey).
Research / Scholarly interests
Mehmet Ugur investigates the interactions between governance, institutions and performance in various contexts, including economic growth, firm performance, innovation, income distribution, European Union policy making, and European network industries.
The cost and incentive structures faced by economic or political agents are endogenous to the quality of governance institutions, which consist of formal and informal norms, rules, regulations and their enforcement mechanisms. Governance quality affects both the range of available options and the cost of implementing the chosen option. In his work, Mehmet demonstrates that good governance enhances the credibility of commitment to announced goals, enabling policy makers and business decision makers to achieve better economic, political and corporate outcomes as a result reduced transaction costs and/or reduced resistance from veto points.
This approach has contributed to the study of governance institution and economic outcomes.
In a review of Mehmet's edited book (Does Economic Governance Matter?), Professor Avinash Dixit of Princeton University has commented as follows: 'The editors give a thoughtful review of ideas and landmarks in the literature and an organizing framework; the other chapters are a good mixture of theoretical, empirical, and case studies. The whole will significantly advance our understanding of institutions and economic performance.'
Mehmet has presented his findings and insights on economic governance and performance in international conferences, and in journals, book chapters and books. External funding for his work indicates that there is significant scope to develop this perspective further and apply it to new issue areas such as innovation, corporate governance, regulation, education, and employment.
Key funded projects
Evaluation of Research and Development (R&D) Expenditures, Firm Survival, Firm Growth and Employment: UK Evidence in the OECD Context (Current)
This project is funded the Economic and Social Research Council (ESRC). It aims to address a number of research questions, including: Does the R&D Tax Credits Scheme encourage innovation by all firms or does it mainly encourage firms that are already active innovators? Does innovation affect firm survival? Do innovative firms grow faster in terms of sales and employment? What factors may explain the similarities and differences in the relationship between innovation and firm performance? How do UK firms compare with OECD firms?
This research project takes a holistic approach to the complex relationship between policy interventions, R&D effort and effects of the latter on firm performance. It treats the introduction of R&D Tax Credits scheme in 2000 as the policy instrument, the level of R&D expenditures by firms as the intermediate target, and firm survival, growth and employment as the ultimate targets.
To investigate the causal mechanisms and outcomes in this three-level relationship, the research utilises firm-level UK data from three databases: the Annual Respondents Database (ARD); the Business Research and Development Expenditures Database (BERD); and the Business Structure Database (BSD). The time period extends from 1994-2008.
The overall objective is to provide a comprehensive analysis of how innovation incentives affect the intermediate target of R&D expenditures and how the latter affects firm performance. The findings will support evidence-informed policy and practice; and will contribute to existing literature
Effects of Innovation on Employment in Low-Income Countries: A Systematic Review
This project is funded by the Department for International Development (DFID). The aim of the systematic review is to provide a synthesis of the empirical and qualitative evidence on the relationship between types of innovation (process and product innovation) and levels of employment, paying attention to skill levels, gender, and the level of aggregation/analysis at enterprise, industry and macro levels.
Both narrative synthesis and meta-analysis findings indicate that: (i) the effect of process innovation on skilled labour employment is positive but small (0.102); (ii) the effect of process and product innovation on total (skilled and unskilled labour) employment is positive but too small to be practically significant; and (iii) the effect of process and product innovation on sector-level employment as opposed to enterprise-level employment is negative but too small to be practically significant. These findings indicate innovation in low-income countries tends to be skills-biased and employment creation by innovators may be offset by job losses in non-innovative enterprises.
The systematic review recommends combining pro-innovation policies with skill and human capital upgrading policies; and draws attention to the importance of appropriate governance institutions that would facilitate the adaptation of innovation technologies to skill endowment of low-income countries. It also recommends investment in compilation of innovation data and further research on low-income countries.
Effects of Corruption on Economic Growth in Low-income Countries: A Systematic Review
This project is funded by the Department for International Development (DFID). Its objective is to address the impact of corruption on economic growth theoretically and empirically with a view to: (a) providing a narrative synthesis of the types of corruption and the causal links between corruption and growth; (b) providing a meta-synthesis of the empirical evidence on the direct and indirect effects of corruption on growth; and (c) mapping the narrative synthesis with the meta-analysis with a view to deriving policy conclusions and point out potential avenues for further research.
The review reports that corruption does have a negative and genuine effect on growth in low-income countries. This aggregate result is obtained after controlling for growth measures, corruption data sources and country types. Indirect effects of corruption on growth tend to be larger than direct effects. In addition, corruption is associated with a negative effect on growth in both low-income countries and middle- or high-income countries.
The review also reports that there is a prima facie case for policy interventions aimed at reducing the incidence of corruption in both low-income and mixed countries. However, economic gains from reducing corruption in low-income countries can be increased if anti-corruption interventions are combined with a wider set of policies aimed at improving institutional quality and providing correct incentives for investment in human capital. This systematic review also indicates that levels of corruption in low-income countries may be higher than non-low-income countries, but the latter stand to gain more from reducing the incidence of corruption.