Key details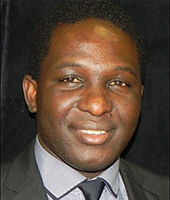 Dr Michael I Okereke
Senior Lecturer
---
Dr. Michael Okereke started as a Lecturer in Engineering Mechanics at the University of Greenwich in August 2010 where he is currently involved in teaching, research and administrative duties.
His main research interests are: predictive modelling of engineering materials; impact testing and modelling; biomechanics and finite element model development. He obtained his DPhil (2010) in Engineering Science from University of Oxford. He also holds a first class honours bachelor degree in Mechanical Engineering from University of Nigeria.
Prior to taking up his current position, he worked as a postdoctoral research associate (2007-2010) at the prestigious Impact Engineering Laboratory, University of Oxford. He has also worked as stipendiary lecturer in engineering science at Lady Margaret Hall, University of Oxford.
Since his employment in University of Greenwich, Michael has obtained funding for two internal university projects. He is currently first supervisor to a student funded by the VC PhD scholarship scheme.
Awards
Best Graduating Student, University of Nigeria, Nsukka Author Anderson Award for academic excellence 2002, University of Nigeria, Nsukka
Research / Scholarly interests
Research Interests
Polymer Engineering
Impact behaviour of engineering materials
Computational modelling of mechanical behaviour of heterogeneous systems
Experiment design investigating impact response of materials
Finite Element modelling
Key funded projects
Vice Chancellor's PhD Scholarship: "Virtual Laboratory for Prediction of Impact Response of Advanced Composite Systems." Total Grant: £52,425. (2012). Status: On-going

Synopsis: With the continued improvement of computing facilities available to engineers, it has become possible to develop a virtual framework for exploring the design space within which many composite materials find practical use. This entails the development of "computational experiments." This project is aimed at: (a) development of a virtual testing framework for prediction of the response of advanced composites at impact rates (b) (b) Development of plasticity algorithm for predicting reliably the rate-dependent impact response of 3D reinforced and particulate composites and finally (c) (c) Experimental testing of advanced composites systems: The experiments are designed to generate model validation data, which will be compared against predictions from the virtual laboratory.
Research Capital Investment Fund (RCIF) Award: "Impact Testing Facility (Split Hopkinson Pressure Bar)." Total Grant: £22,580 (2011). Status: Completed

Synopsis: This project was funded from the RCIF stream for purchase and installation of a state-of-the-art impact testing facility described as the compression Split Hopkinson Pressure Bar apparatus – incorporated with a high speed infra-red camera for thermal studies at these impact rates. This equipment will support internationally recognized research on the dynamic behaviour of various engineering materials and their applications. The availability of such equipment will also boost the research and enterprise profile of the school of engineering and the university. Commercially, the equipment will provide material characterization services to industries in the Kent and London areas thus boosting the enterprise revenue generation to the university. Inter-school collaboration opportunities can arise by having such a test facility.