Key details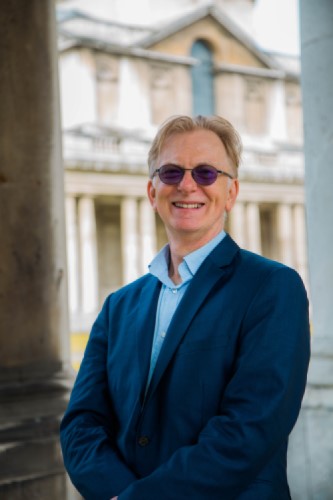 Professor Andrew King
Professor of English Literature and Literary Studies
---
Professor Andrew King has worked at the University of Greenwich since May 2012. His first degree was in classical and medieval Latin (Reading), and he has MAs in Medieval Studies (Reading) and English (Sussex). He completed his PhD (2000), a history of the nineteenth-century mass-market periodical, The London Journal, at Birkbeck, supervised by Professor Laurel Brake. Since then he has expanded his interest both in popular reading and in another neglected but highly influential area of periodical studies, the low-circulation but high-impact world of trade, business and professional magazines: BLT19 is one of the outgrowths of this.
Having started a career in EFL, he taught his first English literature course at the University of Catania, Sicily, where he began work in 1983. In 1985 he completed his PGCE at the University of Cambridge where he was one of the very few to gain distinctions in both the theoretical and practical aspects of the course. He taught in a school in north London for a year before Catania lured him back for the rest of the 1980s. While back in Italy he was translator / interpreter for the Premio Europa per il Teatro (he still has vivid memories of Peter Brooke and Grotowski in 1988), wrote and played music for a semi-professional theatre company as well as in various cultural clubs and salons, and was the research assistant for the late Professor Alba Floreale, an expert in seventeenth- and twentieth-century English drama. While at Catania he taught his first course on literary theory at the behest of Professor Francesca Romana Paci. To both these remarkable women he remains indebted for redirecting him towards new horizons.
Committed to gender equality, in 1990 he left Sicily to support his wife in her career as a British Council officer. As a result, he was fortunate to teach English Literature and Cultural Studies for many years at universities in Romania and Poland, and around the UK (Birkbeck, Hertfordshire and Keele). In 1998 he led the joint Romanian government/ British Council project Crossing Cultures, which introduced for the first time the study of gender, class, sexuality and ethnicity into Romanian schools.
Immediately before coming to Greenwich, Andrew had taught since January 2003 at Canterbury Christ Church University where he was senior lecturer and then Reader in Print History.
Andrew was assistant editor of the Dictionary of Nineteenth-Century Journalism(2008), for which he researched around 70 entries both in areas that had been (often surprisingly) not studied before, and in some very well-known subjects. At a time when these things were very new and rare, he set up and ran for the project the central private website (in those days a VLE) where the 200+ contributors deposited and discussed their work with the editors and each other.
As of 2021, Andrew has externally examined 19 PhDs from Australia, Europe and the UK. He was an external undergraduate examiner at Liverpool John Moores 2004-8 and at Edinburgh Napier 2013-17; he is currently (to 2022) external examiner of the MA in English Studies at the University of Hong Kong.
Dedicated to the future of the discipline, Andrew is founding co-editor of the twice-yearly SCOPUS-indexed Victorian Popular Fictions (2019-), and, 2019-22, President of the Victorian Popular Fiction Association. He is general editor of the Victorian Fiction Research Guides in a knowledge exchange partnership with the publisher Victorian Secrets. He is very proud to have supervised to completion five extraordinarily fine PhDs over 2020-1.