Key details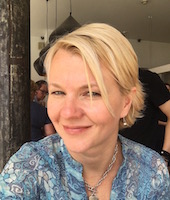 Dr Taina Taskila
Research Fellow
---
Dr Taina Taskila is a Research Fellow in the School of Education at the University of Greenwich.
Taina has worked across academic and policy institutions in the UK, and in academic research institutes in the Netherlands and Finland on occupational health.
Taina was Senior Researcher at The Work Foundation, part of Lancaster University. Here she led several applied research projects in health and wellbeing of employees. Her research has often focused on healthcare and employment in order to improve wellbeing and work outcomes of people who are in a vulnerable position in the labor market.
Previously Held Posts:
2012-2015, Senior Researcher, The Work Foundation (part of Lancaster University)
2008-2010, Visiting Research Fellow, Coronel Institute of Occupational Health, Amsterdam, The Netherlands
2007-2011, Research Fellow, Department of Primary Care Clinical Sciences, University of Birmingham, UK
2002-2006, Researcher, Department of Epidemiology and Biostatistics, Finnish Institute of Occupational Health, Helsinki, Finland