Key details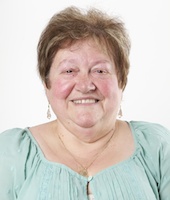 Patricia Pass
Principal Lecturer, Adult Nursing
---
Patricia Pass is a Principal Lecturer of Adult Nursing in the School of Health Sciences at the University of Greenwich.
Since 2002, Pat is one of the two principal lecturers responsible for recruitment and admissions in the faculty. The role involves visiting schools, mainly in South East London and Kent, to talk with potential applicants, careers advisors and teachers about courses run in the faculty and the university at large.
In addition, Pat helps with UCAS applications, interview preparation, visiting further education colleges, some of which are partnership colleges via the university and others the progression agreement reached via the Lifelong Learning Networks.
Pat completed her nursing programme at St George's Hospital, then worked in various hospitals in London, usually in critical care settings such as Coronary Care and the Liver Unit. She remained in the NHS until 1990, then commenced her career in academia at the Thames College of Healthcare Studies, where in clinical practice as a lecturer, supported ward staff and students in medical and elderly care areas.
Currently, at the University of Greenwich, she is in a team of lecturers who teach Life Sciences, involving anatomy and physiology; pathophysiology; microbiology; pharmacology and related skills such as intravenous additives, immunisation, and vaccination.
Pat is lecturer in the Adult Nursing (Levels 4–6/pre-registration) programme, to nurses, midwives, paramedic science practitioners and students of health studies.
Posts held previously:
1999–2002, Principal Lecturer Life Sciences, School of Health & Social Care, University of Greenwich
1999–2002, Subject Group Leader, Healthcare Sciences, School of Health & Social Care, University of Greenwich
Responsibilities within the university
Principal Lecturer, Adult Nursing, School of Health
Lecturer in Adult Nursing, Levels 4–6 (pre-registration)
Recruitment and admissions in the Faculty of Education, Health and Human Sciences
Recognition
Member of the university recruitment committee
Recent publications
Article
Newton, Paul , Curl, Charlotte, Prasada, Ria, Pass, Patricia , Bowden, Julie (2018), A qualitative exploratory study of informal carers' experiences of identifying and managing oral pain and discomfort in community-dwelling older people living with dementia. MDPI. In: , , , . MDPI, Geriatrics, 3: 32 (3) 2308-3417 (Online) (doi: https://doi.org/10.3390/geriatrics3030032).