€3.89 million project co-funded by the European Regional Development Fund to accelerate the transition from linear to circular business practices in the coastal tourism and leisure sector.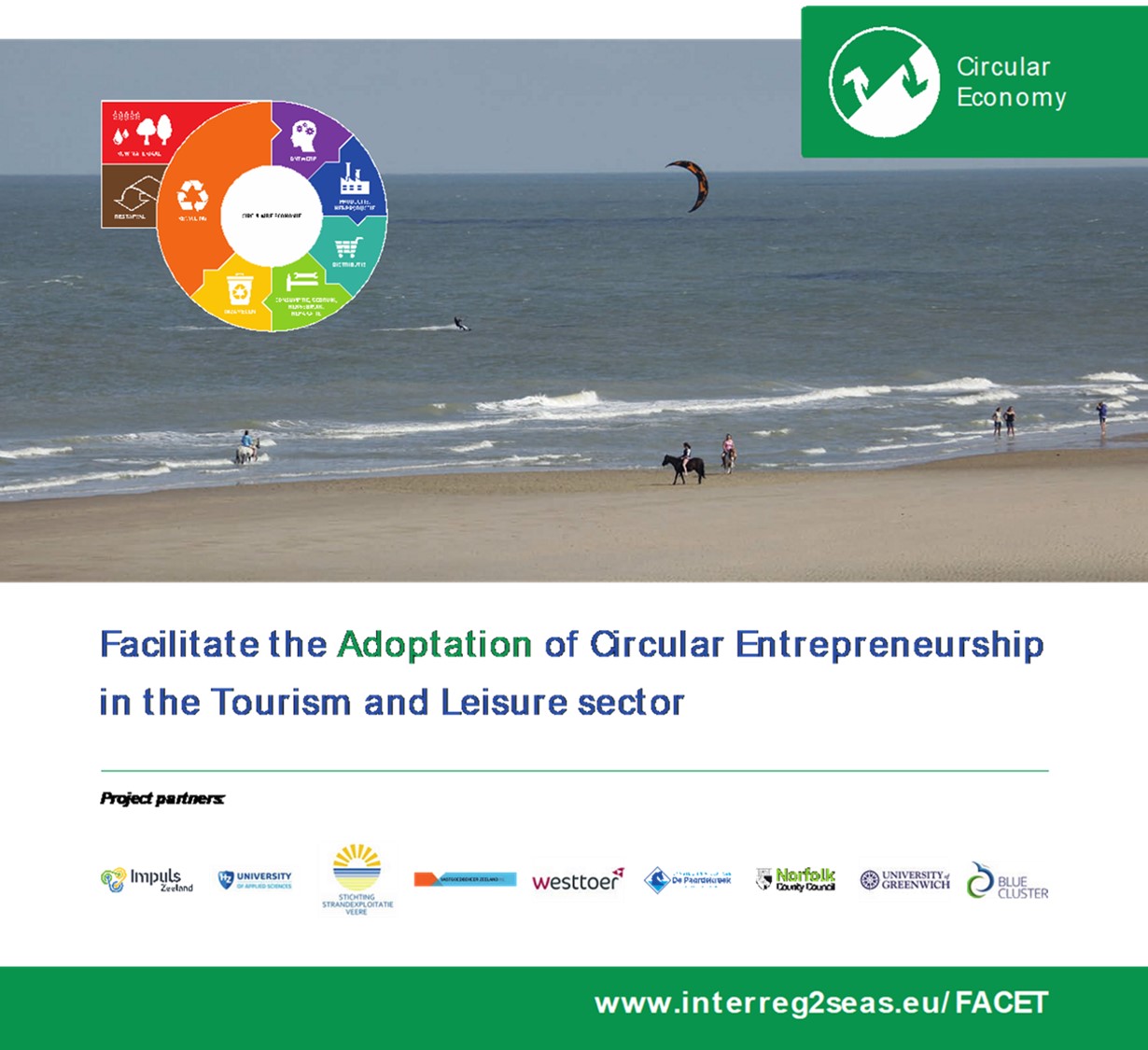 The Interreg 2 Seas FACET project wants to encourage entrepreneurs in the tourism sector to apply circular solutions within their company, thereby creating new sustainable revenue models. Entrepreneurs are increasingly interested in adopting sustainable practices, but they often lack knowledge and skills necessary to implement green innovations. This project will develop various practical, accessible, and small-scale pilots and demonstration projects to help entrepreneurs gain practical knowledge and experience in the transition from linear to circular practices. With a strong consortium of project partners from Flanders, the Netherlands, France, and England, experiments are being conducted with circular applications in the fields of accommodation, waste reduction, and circular operations.
Project start date: January 2020
Project end date: March 2023
About us
Dr Jin Hooi Chan is leading the Greenwich team, with a budget of €600,000. The team draws on expertise in the Department of Systems Management and Strategy in sustainable innovation, entrepreneurship, supply chain management, innovative financing initiative, and socio-technical transition processes. The project team includes researchers from two of the Business Faculty's core centres of excellence, NUSC and PEGFA:
Senior Management: Professor Petros Ieromonachou
Scientific Advisor: Professor Dotun Adebanjo
External Advisor: Prof. Dr Bernard Lane
Project Director: Assoc. Prof. Dr Jin Hooi Chan (WP2 Leader)
Policy Lead: Dr Athena Piterou
Theory Lead: Dr Anne-Marie Coles (FACET White Paper Editor)
Financing Model Lead: Dr Maggie Xiaowen Gao (Econ & Finance Dept)
Circular Economy Lead: Nadine Leder (WP3 pilots)
Innovation Study Lead: Lucien von Schomberg (WP4 pilots)
Communication Lead: Susanne Namer Waldenstrom
Finance Manager: Chipo Nyandoro-Kunzvi
Research Fellow: Angelo Sciacca
Research Assistant: Luciana Weatherall
External Associate: Dr Sonal Singh (former Research Fellow)
Aims
A coastal region, the 2 Seas region (covering the coastal areas of England, Flanders, France and the Netherlands and connected by the Channel and the North Sea) has traditionally been a tourist destination with a strong impact on the regional economy. According to the UN World Tourism Organisation, tourism in this region will increase by 5-8%. However, tourism also entails mass consumption of raw materials. This can grow worldwide by 92% (water) and 189% (land use) in the period 2010-2050 (Tourism Watch) and puts pressure on the already limited raw materials in the region, where industry, agriculture and tourism are already competing.
FACET aims at increasing adoption of circular solutions in the tourism sector by supporting entrepreneurs in shifting from linear to circular. This will be done by demonstrating low-threshold solutions and extracting best practices, so that entrepreneurs receive hands-on knowledge and support in changing their business models. By facilitating the formation of a cooperation system for local entrepreneurs, increasing incentives, making recommendations for the removal of regulatory barriers and developing practical tools, FACET will demonstrate that quality and economic sustainability can be reinforced by circular solutions, so that circularity streamlines the entire sector and does not focus on a niche market. FACET will result in an increase of adoption of existing circular solutions among entrepreneurs in the tourism sector and will contribute to understanding among government and business support associations of the incentives and barriers to shifting from linear to circular models.
It is clear that here we need to find a circular solution to ensure that tourism remains economically beneficial. The coronavirus crisis is currently forcing many operations to halt. Now it is the time to look at how we have organised our society and economy and how we want to build our systems post-Covid-19 lockdown. FACET is a local action to contribute to the efforts of COP26 in decarbonising the industry, accelerating the cost-effective decarbonisation of tourism and hospitality sector by developing and deploying low carbon technologies and innovations.
Several small pilots
Throughout the 2 Seas area, FACET is developing demonstration projects and 30 practical, accessible and small-scale pilots to help entrepreneurs gain practical knowledge and experience to make circular business models. FACET provides expertise and support in setting up these pilots. For example, the Circular Dijk Suite pilot has been successfully implemented by Camp Site and Villa Park De Paardekreek in Zeeland, the Netherlands.
Cooperation groups
At the same time, local and regional cooperation groups are set up between companies within and outside the tourism sector, suppliers and chain parties. These communities of collaborating parties are strengthened through the involvement of local governments, financiers and end users (i.e., tourists and residents). By involving governments, we look for ways to jointly tackle challenges within existing regulations. Appropriate financing constructions are also being sought for the realisation of circular concepts. This collaboration is a sure way to increase the introduction of circularity.
Although the end users of the tourism product, i.e., tourists, are not included in the pilot projects, the demonstrations will give them the most benefit and guarantee the quality of their experience and perception of the area.
Sharing knowledge
Awareness of companies in the tourism sector about the circular economy, new business models and other forms of cooperation is an important issue within the project. Consequently, best practices gained are shared and exchanged both regionally and internationally. This will build up practical knowledge and support entrepreneurs in changing to a circular business operation / circular revenue model. The FACET project contributes towards stimulating tourist SMEs to develop and utilize circular applications.
Interreg 2 Seas
https://www.interreg2seas.eu/en
Interreg 2 Seas 2014-2020 is a European Territorial Cooperation Programme for England, France, the Netherlands and Belgium (Flanders). The Programme is co-financed by the European Regional Development Fund (ERDF) and has a total budget of EUR 241 million to support projects for the period from 2014 to 2020. The objective is to develop an innovative, knowledge and research-based, sustainable and inclusive 2 Seas area, where natural resources are protected, and the green economy is promoted
Contact
For further information on the project- contact Dr Jin Hooi Chan
Project websites and social media sites
https://www.projectenportfolio.nl/wiki/index.php/PR_00319?project=FACET
https://www.interreg2seas.eu/en/FACET
https://www.facebook.com/FACET-104035848023387/
https://www.linkedin.com/company/circulair-ondernemerschap-in-de-toerisme-recreatiesector/
Other Project Partners:
NV Economische Impuls Zeeland (LP) https://www.impulszeeland.nl/nl
University of Greenwich (UK) https://www.gre.ac.uk/
Norfolk County Council (UK) https://www.norfolk.gov.uk/
HZ University of Applied Sciences (the Netherlands) https://hz.nl/en/
Camping en Villapark De Paardekreek (the Netherlands) https://paardekreek.ardoer.com/nl/
Westtoer (Belgium) https://www.westtoer.be/nl
De Blauwe Cluster (Belgium) https://www.blauwecluster.be/
ADEME (French Environment & Energy Management) (France)
Observer Partners:
Great Yarmouth Borough Council (UK) https://www.great-yarmouth.gov.uk/
Avans University of Applied Sciences (the Netherlands) https://www.avans.nl/
The Agglomeration Community of the Sommer Bay (France) https://www.baiedesommeagglo.fr/
Stichting Strandexploitatie Veere (the Netherlands) https://www.strandexploitatieveere.nl/