A programme of workshops designed to support students to build key skills relevant to academic writing and independent learning.
GREat Skills is an initiative designed to develop academic skills and help students prepare for the transition to university
GREat Skills is a programme of academic and personal skills workshops delivered by our trained student ambassadors and staff, aimed at students from local sixth forms and colleges. The programme also incorporates optional on-campus enrichment activities. The programme is suitable for all students, whether they are currently completing a piece of academic work, due to complete one in the near future, or would benefit from the opportunity of being able to build on key skills relevant to their future studies within a Higher Education setting. The workshops are also particularly suitable for students taking the EPQ as they cover many of the main skills which students develop and are expected to demonstrate within their projects.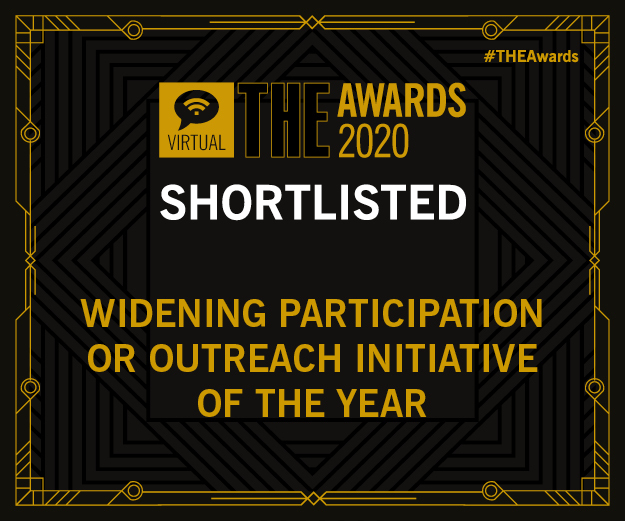 We are pleased to announce that the GREat Skills Programme was shortlisted for THE Awards 2020, for the Widening Participation or Outreach Initiative of the Year category.
GREat Skills Scholarship
Successful completion of the GREat Skills workshops will make students eligible for nomination by their school staff for our £2000 GREat Skills Scholarship, here at the University of Greenwich. Click here for more information about our bursaries and scholarships. To be eligible for nomination for this scholarship, students would each have to have completed at least 4 GREat Skills sessions (a library visit would also count as one session) or 3 GREat Skills sessions alongside completion of our online resource, Independent Learners' Toolkit. Participation in our online webinars would also count towards attendance, however, use of pre-recorded resources would not count as attendance.
Please note that the scholarship and all of its relevant criteria are currently under review and may therefore change for 2023 applications onwards. Applications for the 31 May 2022 deadline will not be affected.
Skills Workshops
Our academic/personal skills workshops cover:
Choosing your question
Selecting and evaluating sources
Referencing and avoiding plagiarism
Effective presentations
Reflective writing
Understanding feedback
Managing stress
Developing resilience
Learning independently
Problem solving
Active listening & communication
Time management
Attention to detail
Optional on-campus activities include:
Library visit (subject to availability)
GREat Skills Twilight sessions
Academic networking
Taster Days
Careers session
These activities can be booked here.
If you have any accessibility requirements which you would like to inform us of for any of our events, please email us at esu@gre.ac.uk
Delivery
We offer different modes of delivery for these workshops:
In school
For targeted schools or colleges (see list here), our student ambassadors or staff will visit you to deliver the skills workshops. Dates and times can be agreed to fit in with the timetable for your students, or your study programme. If you are from an eligible school or college, please contact us to discuss your requirements: GREatSkills@gre.ac.uk
Live Online Webinars
For targeted schools or colleges (see list here), we will be able to deliver the skills workshops online as live webinars, on an individual basis for your school or college. If you are from an eligible school or college, please contact us to discuss requirements and arrangements for these: GREatSkills@gre.ac.uk
Single skills workshops will also be delivered online via Zoom this term, commencing 15 September and will be held every Wednesday from 5-6pm. Students can book to attend these independently or can attend as part of a school group. Dates and booking information can be found at the bottom of this webpage.
It's important to stay safe online, please see our Safeguarding Policy which provides details about staying safe at online events and webinars.
On-campus skills day
Multiple skills workshops delivered on campus in one day. Schools and colleges can book to bring a group of students. Dates and booking information can be found at the bottom of this webpage.
Online Resources
We have pre-recorded video versions of all our GREat Skills workshops, as well as PDF versions of these presentations and any accompanying resources, available for you and your students to download and access. These can also be helpful refreshment tools for any of your students who may have completed a workshop with us previously. Further information on how to access these can be found on our resources page.
The GREat Skills workshops were really useful both for students and myself as a teacher new to EPQ. I thought they were well thought out and planned and were an effective use of our lesson time
(Teacher, George Green's School)
The work, dedication and skills provided by the whole GREat Skills team were excellent. The team helped the students immensely but also me (with this being the first time I have taught the EPQ!). The students and myself would like to thank you for all of your support!
(Teacher, Mulberry UTC)
All students and staff were greatly impressed by the whole experience and look forward to continuing to work with the University
(Teacher, Welling School)
Careers Strategy
The Government's Careers Strategy uses the Gatsby Benchmarks to set out a range of requirements that schools and colleges must meet. We have matched all of our activities to these, and this activity can support you with meeting benchmark 1, 4 and 7.
Booking Information
Suitable for students in year 12 or FE year 1 and Year 13 or FE Level 2. This could be built into BTEC self-directed time or delivered to Pre-Access and Access students. Also suitable for students completing the EPQ and delivered as part of the taught element of the Extended Project Qualification.
To find out more and/or register your school/college please get in touch.