Key details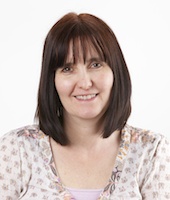 Avril Hocking
Senior Lecturer, Learning Disability Nursing
---
Avril Hocking is a Senior Lecturer for Learning Disability Nursing in the School of Health Sciences at the University of Greenwich.
As a senior lecturer since 2005, her primary focus is within the pre-registration Learning Disability Nursing programme. She also provides teaching on the Continuing Professional Development (CPD) courses and additional training to stakeholders when requested. She has further responsibility as course coordinator, Link tutor, and Personal tutor.
As adult safeguarding lead in the faculty she works alongside the children's safeguarding lead to coordinate training, the development and implementation of safeguarding policies and supporting issues raised by students.
Avril's previous professional experience included the management of community residential/short-break stay services for children and adults with learning disabilities and complex needs. She previously held the post of Lecturer Practitioner, working across both the University of Greenwich and the Learning Disability Directorate.
Avril's main teaching areas relate to learning disability specific training, but she has an interest in safeguarding adults particularly in relation to people with learning disabilities. Additionally, Avril has successfully managed a project which developed an interactive game teaching tool about dementia. This interactive tool has been endorsed by the Quality Group within the Institute of Integrated Care as an example of good practice.
Posts held previously:
2002-05, Lecturer/Practitioner, University of Greenwich
2003–05, Practice Coordinator, West Kent NHS and Social Care Trust
Mentoring and providing clinical supervision to the home managers, providing training across a local NHS trust across the Learning Disability Services