International Wine Business (QA only), BA (Plumpton College)
Gain a fascinating insight into the UK wine trade as well as developing a range of business skills and an in-depth understanding of the principal wines of the world.
If you're looking to work in the wine trade or start your own wine-related business, this programme is ideal for you. Covering a practical and theoretical understanding of wine and the wine industry, it's an excellent combination of lectures, practical wine tasting, work experience, an independent project and the opportunity to visit European vineyards.
You will learn how to interpret information relating to the production and markets of wines of the world and develop a practical understanding of these products; obtain a knowledge of core business skills and apply these to UK wine industry scenarios as well as gaining work placement experience and developing industry links with the UK wine industry.
Location
Duration
3 years full-time
6 years part-time
Home/international fees 2023/24
TBC /TBC
What you should know about this course
The course is offered by one of the university's partner colleges: Plumpton College, based at Lewes, East Sussex
Gain a knowledge of core business skills and apply these to UK wine industry scenarios
Offers a practical qualification particularly suited to mature students wishing to transition into the UK wine trade
Study a unique business degree with a specialism in wine and associated drinks.
What you will study
Validated / Quality Assured (QA) Programmes: these are programmes approved ('validated') and quality assured by the University of Greenwich for delivery by one of our Partner Colleges. They lead to a University of Greenwich award.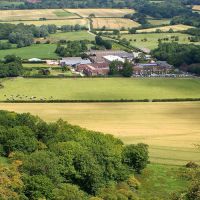 Plumpton College
The course is offered by one of the university's partner colleges.
Plumpton College offers land & environment courses in agriculture, horticulture, animal behaviour, equine science, veterinary and wine.
About the course team
You will be taught by an expert team whose experience and knowledge closely reflects the course modules. The team consists of leading academics, and experienced industry professionals, along with diverse industrial networks to external international experts who deliver guest lectures on individual modules, and career guidance.
Course Leader: Paul Harley
Clearing entry requirements
How you will learn
The following data is based on the compulsory modules for this programme.
Teaching
In a typical week learning takes place through a combination of:
Learning takes place through a combination of timetabled learning and independent study.
You can view more information about how each module is taught within our 'What you will study' section.
Seminars and workshops enable you to discuss and develop your understanding of topics covered in lectures in smaller groups. You will also be able to meet your personal tutor. Timetabled learning may fall between 9am and 9pm depending on your courses and tutorials.
Class sizes
Class sizes are small with a high focus on individual engagement and support. Cohort sizes are restricted a maximum of 20 students. There are a couple of cross college modules which may see shared classes with other degree courses resulting in larger lecture groups of up to 50 students. Small class sizes are a strength of the provision and allow for increased interaction between lecturers and students.
Independent learning
At university, you must develop the ability to work more independently than you have done before. In the early stages of the degree, you will receive a higher level of support from module leaders and personal tutors. In years 2 and 3, you will need to demonstrate an increasing ability to build upon material delivered in lectures and practice through independent reading. Greenwich graduates should be able to think and work independently, analytically and creatively to solve problems.
Overall workload
You should expect the workload to be similar to a full-time job. Each module you study towards this degree is worth 15 or 30 credits. These represent around 150 or 300 study hours respectively. If you receive 100 contact hours for a 30-credit module, you should expect to commit 200 hours to independent study to complete it successfully.
Assessment
Students are assessed through a combination of assessment methods depending on the modules chosen.
You can view how each module is assessed within our 'What you will study' section.
Each course has formal assessments which count towards your grade. Some courses may also include 'practice' assignments, which help you monitor progress and do not count towards your final grade.
Feedback summary
We aim to provide feedback on assignments taken at the college and to release examination results within 15 working days.
Dates and timetables
The academic year runs from September to June.
Full teaching timetables are not usually available until term has started. For any queries, contact the HE office (HEoffice@plumpton.ac.uk)
Fees and funding
Your time at university should be enjoyable, rewarding, and free of unnecessary stress. Planning your finances before you come to university can help to reduce financial concerns. We can offer advice on living costs and budgeting, as well as on awards, allowances and loans.
| | Full time | Part time | Distance learning |
| --- | --- | --- | --- |
| Home | TBC | TBC | N/A |
| International | TBC | TBC | N/A |
Funding your study
There is a range of financial support options available to support your studies, including the Aspire@Greenwich award for study resources that many full-time students will receive.
EU students may be eligible for a bursary to support their study. View our EU bursary to find out more.
Discover more about grants, student loans, bursaries and scholarships. We also provide advice and support on budgeting, money management and financial hardship.
Field trips
The cost of field trips is activity dependant. Some are free, while others may require a contribution. You are not obliged to pay for field trips in order to complete your course.
Resources
Course texts and other study resources are available from Library. You may wish to purchase your own copies. You receive a small allowance for printing costs, which you can top up if required.
Careers and placements
Will I have a work placement?
Students are required to complete a work placement as part of their foundation degree. They can select to work in any appropriate domestic or international wine business (such as a producer, supplier, importer or retailer) of their choosing.For example, previous students have worked for the likes of Ridgeview Wine Estate, Rathfinny Wine Estate, Bibendum PLB, Liberty Wines, Liv-ex, Majestic Wines, Butlers Wine Cellar and Waitrose.
How long is my placement?
Students must undertake a placement lasting at least 100 hours, which is related to a credit rated course at Level 5.
What sort of careers do graduates pursue?
With the UK being seen as the most dynamic of world wine markets, UK wine qualifications are certainly held in high regard. You'll have many opportunities to network directly in the wine industry throughout your course – opening up job opportunities for you after graduation. Many of our successful graduates have gone on to very rewarding careers: business development manager, global wine buyer, independent retailer or sommelier. You can also choose to continue your studies and top up to your BA (Hons) International Wine Business qualification.
Do you provide employability services?
We offer impartial careers guidance to all of our students, email careers@plumpton.ac.uk to explore your next step or to book an appointment – we're here to help.
Support and advice
Academic skills and study support
The College's Inclusive Learning and Development Department offers dedicated support for HE students, this can take the form of one-to-one support, exam access arrangements. Students who have a learning disability are able to access support with making an application to the Disabled Students Allowance (DSA) from the College's Inclusive Learning and Development Department.
Support from the department
The Library boasts a collection of over 8,000 books, covering a range of key subject areas within land-based curriculum. The Library also provides students with access to a variety of magazines, periodicals and academic journals through online databases.
Learning technology is central to the learning experience of students at Plumpton College and therefore is supported by dedicated staff within the College Teaching and Learning Team. The responsibilities of this team are to help support students with learning technology to enhance the overall learning experience.
Mode of study
Select from the dropdown below.
| | |
| --- | --- |
| Course level | |
| UCAS code | |
| Duration | |
| Location | |