Pneumatic conveying is a very commonly used method for transporting bulk solids – from large scale ship bulk cargo unloaders, to small in-plant systems.
The main advantages of pneumatic conveyors include greater flexibility of routing options (compared to mechanical methods), the isolation of product from external contamination and the elimination of spillage during conveying.
At the Wolfson Centre, we have a wide experience of pneumatic conveying systems operating\ lean or dense phase modes of operation and the types of problems that can arise as a result of mismatched feeders, pipe designs and air movers. In many cases a change in the bulk solids can also contribute into or be wholly responsible for operational issues.
Frequently encountered problems
Poor throughput
Excessive power consumption
Blockages / scaling
Premature wear of components
Product degradation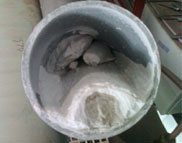 A blockage in a pneumatic conveying line
Modern techniques have made it entirely possible to design pneumatic conveyors that give reliable performance with minimal product damage or system wear.
Alternatively, if you're experiencing problems with an existing pneumatic conveyor, it is usually possible to alleviate these by studying the system operating conditions, physical layout and the material characteristics.
By measuring the conveying properties of a material we can develop data for the accurate design or modification of systems. As well as advising on conventional systems where requirements dictate the use of special techniques such as stepped pipelines.
The facilities in the laboratories of The Wolfson Centre include:
A range of pipelines in industrial sizes with a large number of layouts for system simulation
Fully instrumented pipe loops for measuring the performance of conveyed products
Data gathering and processing systems for analysing conveying behaviour and flow prediction of performance of proposed systems
Rotary valve, top and bottom discharge blow tanks, venturii feeders and suction nozzles for feeding pipelines in both lean and dense phase for negative and positive pressure conveying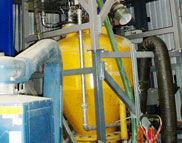 A pneumatic conveying rig
Services are provided on a totally confidential basis and include:
Design of new systems or modifications to existing systems, and cost analysis of options
Assessment of vendors' bids
Trouble-shooting on site - from one day visits to larger investigative projects
Research into new technology and testing of special equipment
Integration of pneumatic conveying systems into plant layouts - including interfacing with process elements, design of hoppers and silos