University Mental Health Day is celebrated across the UK bringing the university community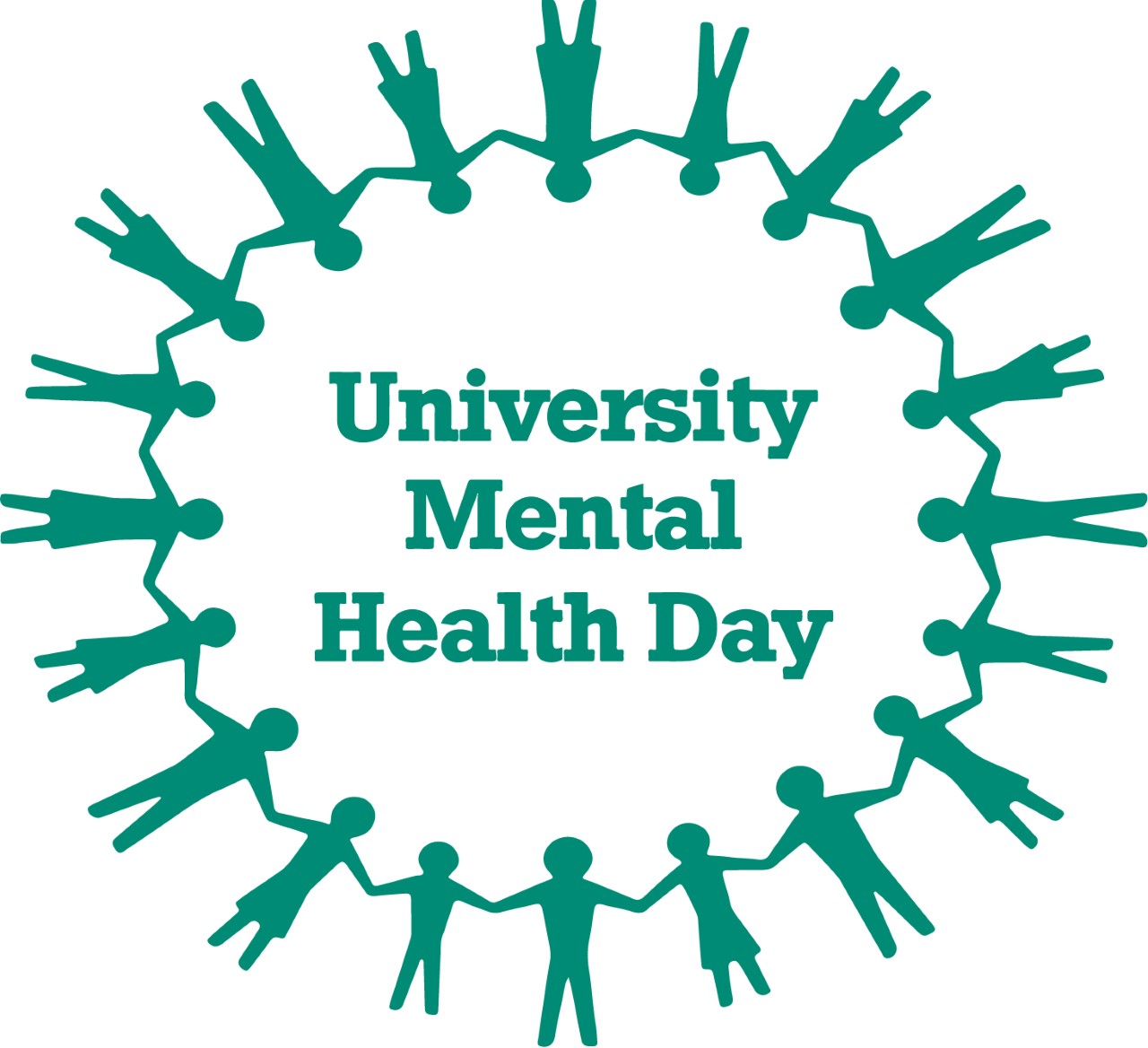 together to make mental health a university-wide priority and create ongoing change to the future of student and staff mental health.
We know that mental health hugely matters to our students and it matters to us. 50% of mental health problems start by age 14 and 75% by age 24. It is determined by a range of individual, interpersonal, community, environmental and structural factors. Universities, including ours, have an important role to play in promoting good mental health, identifying those who are starting to struggle early, and supporting those who have a mental health condition.
Every year we celebrate the University Mental Health Day to spread the message that it is okay not to be okay, that a lot of people can get better, and that our university community cares.
In what has been a challenging period, we're focusing on the mental health and wellbeing of our community to ensure that we can continue to support each other and our mental health through these times. Through our Health and Wellbeing Strategic Action Plan, we will continue to prioritise mental health and wellbeing over the months and years to come. This will include training staff in mental health first aid, building on the training that has already been delivered – for which we have been shortlisted for an Inside Out award.
This is our most wide-reaching programme of activities to-date, with a breadth of online and face-to-face events taking place across the university – including a keynote session from our Vice Chancellor, Professor Jane Harrington, and Dr Jacqui Dyer MBE, President of the Mental Health Foundation.
A collaborative effort, the event involves our Student Wellbeing team, staff networks and external colleagues, along with staff and students across the university, Greenwich Students' Union and our partners. Information is being provided on what mental health support is on offer for staff and students and how you can make the most of what is available around the university. We have also included a list of useful resources to view in your own time in the links below
Resources
Tips for everyday living from Mind: mental health charity Mind have put together these tips and guides to help you cope with everyday things like work, university, looking after yourself online and more. You will also find information on the relationships between mental health and food and nature.
Nature bathing: Immersing yourself in nature and adding it in your daily routine can enhance your mental health. Find out more here.
How to look after your mental health using exercise: There are many reasons why physical activity is good for your body – having a healthy heart and improving your joints and bones are just two, but did you know that physical activity is also beneficial for your mental health and wellbeing?
Edible Garden: Our garden at Avery Hill is a haven for birds and insects and also provides an abundance of fruit, vegetables and, herbs for students and staff to use.
Support for the LGBT+ community: looking after your mental health: Equality, diversity and inclusivity are important to us at the university and we understand that gender identity and sexuality play a critical role in mental wellbeing. We have put together these resources to help support the mental health of our LGBT+ community.
How Stress Can Lead to Addiction: Many of us during the course of our lives will find that we are suffering from high levels of stress. This can be caused by a great many things; financial worries family crisis, problems at work or bereavement.
Drugs and Mental Health: Resources include this article exploring the relationship between substance use and mental health, and Drugwise, which provides information about drugs which is topical, evidence-based and non-judgemental.
Support for students
The Student Wellbeing Service: We offer a range of support services to help you make the most of your time with us. These include health and medical services, a chaplaincy, disability and dyslexia support, and counselling services.
Other Sources of Support: Alongside our counselling service, there are a range of volunteer services, self-help guides, and support services you can turn to if you need additional help.
STAART | Support | University of Greenwich: STAART (formerly the *AccessAbility Project) supports students with a disability, long-term health condition, specific learning difficulty, and/or mental health condition to thrive at university.
GSU - Stressbusters: This is your place to find activities to help you tackle stress and improve your wellbeing while you learn from home, especially during exam and deadline seasons.
GSU - Advice Service: The Students' Union Advice Team offers free and confidential advice for students at the University of Greenwich. The team is independent of the University, as is the Union, meaning we can give you an impartial view and support on any issues you face.
Studio Lab hits the airwaves with a new podcast MAKING MENTAL MOVES with Broadcast Your Podcast, a new collaboration Initiative by Studio Lab, March 2022:
Title: Studio Lab Podcast Series One - Making Mental Moves. Episode One: "tips to de-stress"
Making Mental Moves producer/participant: Nawal Ali
Co-producers and participants: Eliane Dossou and Miles Davis
Studio Lab TV Producer: Mary Mullen (TV Studio Lecturer)
Supported by and in collaboration with Studio Lab Technical Demonstrator Tim Putnam, University of Greenwich Student Union; Annie-Marie Akussah and Clyde Broadcast.
Support for staff
Confidential Care: staff can access a wide range of support from our Employee Assistance Provider, including counselling services.
Staff Resilience Toolkit: these pages aim to help you develop your personal resilience during the coronavirus pandemic, and as we return to on-campus working.
NHS Psychological Therapies: Feelings like anxiety and depression can affect us all. If you're struggling with your mental health, the NHS can help you get your feet back on the ground. You can refer yourself or your GP can refer you.
Embedding Mental Wellbeing in the Curriculum (for academic staff): This project, led by De Montfort University, explores how mental wellbeing can be embedded into all aspects of higher education to enhance the student experience. Collaborative research by teams from seven higher education providers and a students' union has led to the collation of best practice examples and the creation of these Open Educational Resources (OERs).