You are viewing entryViewing year 2024/25. View alternative
Aquaculture and Fisheries Management (Final Year Entry) (Hadlow), BSc Hons
This degree will provide you with the scientific knowledge and managerial skills for a successful career in the expanding sports fisheries market or aquaculture industry.
This course will help you to build on practical experiences, gaining insight into the importance of the sport fishery and aquaculture sectors for food production and sustainability.
While being hands-on, the course also covers the science and management of sports fishery and aquaculture. You will develop analytical skills through modules on water quality, fish health and biology, and habitat and conservation management. You'll also benefit from our facilities, which will support your learning and include a college-owned fish farm and lakes complex.
The course is offered by one of the university's partner colleges: Hadlow College in Kent.
Course/institution codes
D481H
Interested in a different year?
Select your preferred
to view up to date information.
Duration
1 years full-time
What you should know about this course
High-level theory and an unrivalled level of practical skills
Benefit from an impressive range of resources, including the College-owned fish farm and lakes complex
Strong links with local fishery partners
Top up your existing FD qualification in a related subject in just one year.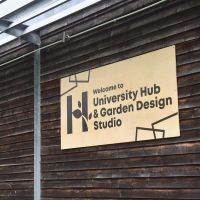 University Centre, Hadlow
The course is offered by one of the university's partner colleges.
The University Centre Hadlow is a dedicated part of Hadlow College offering a rural campus setting for our courses in partnership with the University of Greenwich.
About the course team
The fisheries team has an array of experience ranging from freshwater fisheries management specialists, construction, marine, fish health and disease, angling, fish farming and aquatics specialists. All have worked in the industry in various sectors and bring this knowledge and experience to the delivery of the course.
Entry requirements
Applicants must have successfully completed a Level 5 programme of study, such as one of the following:
A Diploma of Higher Education
A relevant foundation degree with a grade point average of at least 55%
A HND with a Merit profile.
Applications from mature students, without the standard entry requirements, who are working in the animal industry, are warmly welcomed.
Please contact Admissionshadlow@northkent.ac.uk.
For more information, contact courseinfo@greenwich.ac.uk or 020 8331 9000.
You can also read our admissions policy.
How you will learn
The following data is based on the compulsory modules for this programme.*
* Compiled from modules taught on 2023-2024 courses.
Teaching
In a typical week learning takes place through a combination of:
Learning takes place through a combination of timetabled learning and independent study.
You can view more information about how each module is taught within our 'What you will study' section.
Seminars and workshops enable you to discuss and develop your understanding of topics covered in lectures in smaller groups. You will also be able to meet your personal tutor. Timetabled learning may fall between 9am and 9pm depending on your courses and tutorials.
Class sizes
As a degree student at Hadlow College, you will enjoy the friendly atmosphere of a rural campus university with the smaller class-sizes more common in colleges.
Independent learning
At university, you must develop the ability to work more independently than you may have done so before. During your qualification, you will receive support from module leaders and personal tutors regarding how to do this effectively. Independent learning is an important aspect of your progression and completion of your qualification. You must ensure you are prepared for this and have the correct environment to undertake this.
Overall workload
Rather than being spread over a whole week, we try and condense our teaching into 2-3 days. This gives you time for other things.
Assessment
Students are assessed through a combination of assessment methods depending on the modules chosen.
You can view how each module is assessed within our 'What you will study' section.
Each course has formal assessments which count towards your grade. Some courses may also include 'practice' assignments, which help you monitor progress and do not count towards your final grade.
Feedback summary
Assessment feedback on the programme will be delivered through a range of mechanisms depending upon the assessment method. Assessment feedback will be given in a timely manner that adheres to Hadlow College's Assessment Policy, within 15 working days on assessment feedback being given to the students on formal summative assessment. Examination results will be available within 28 days.
Dates and timetables
The academic year runs from September to June. Full teaching timetables are available at the start of term. For any queries, please email Admissionshadlow@northkent.ac.uk.
Official statistics on Discover Uni
Full time
Fees and funding
Your time at university should be enjoyable, rewarding, and free of unnecessary stress. Planning your finances before you come to university can help to reduce financial concerns. We can offer advice on living costs and budgeting, as well as on awards, allowances and loans.
| | Full time | Part time | Distance learning |
| --- | --- | --- | --- |
| Home | £9,250 | N/A | N/A |
Funding your study
There is a range of financial support options available to support your studies, including the Aspire@Greenwich award for study resources that many full-time students will receive.
Discover more about grants, student loans, bursaries and scholarships. We also provide advice and support on budgeting, money management and financial hardship.
Some courses have additional costs associated with them, such as trips, clothing and materials. Students may also need to purchase some specialist equipment.
For this course, you will need the following:
Protective clothing and footwear in a dark colour
Chest waders or a dry suit (any provider)
Neoprene gloves (any provider)
Full details of costs are provided at interview or can be obtained by contacting the College Information and Recruitment Services. More information.
Careers and placements
What sort of careers do graduates pursue?
Successful students can progress onto a related MSc or PhD programme. Alternatively the programme provides students with the necessary skills for management within the fisheries and aquaculture sectors. Typical employers include local authorities and public sector organisations such as The Environment Agency, as well as commercial fisheries, water companies, wholesalers and angling clubs. Past students are currently working for AJS Fisheries, the Environment Agency, Ocean Matters, Aqua Biotech, University College London, Trafalgar Trout Farm, Loch Duart Salmon farm and Mid Kent Fisheries.
Do you provide employability services?
Hadlow College has a dedicated team that will work with you to develop your CV, provide you with interview experience and offer advice on your future career direction. As a University of Greenwich student, you can also benefit from the employability services at the University, including the online resources and one-to-one assistance with placement and employment opportunities, knowledge of job markets, HR selection processes and job applications.
Support and advice
Academic skills and study support
To help you settle in and enjoy your time with us we offer a range of support. The high standards our support reach was recognised during our last OFSTED 'Care Standards' Inspection - once again (for the fourth consecutive time) we received a Grade 1 'outstanding' with no recommendations needed to improve our services.
At the start of your course you'll be assigned a personal tutor who will guide and monitor you during your time with us. In your one-to-one tutorials, which are held regularly throughout the year, you will have the chance to discuss careers, health and social education, as well as academic progress.
Mode of study
Select from the dropdown below.
| | |
| --- | --- |
| Course level | |
| UCAS code | |
| Duration | |
| Location | |