Education Studies, BA Hons (Top up) (NESCOT)
Start or progress a career in education with this research-focused top-up degree in education studies.
Our top-up degree in education studies is aimed at students interested in developing their current Level 5 qualification, such as a foundation degree, to a Bachelor's degree in education. The course prepares you for a range of careers in education, including work as a teaching assistant, teaching in further education, and roles in education administration and youth work.
Although much of the course is lecture-based, your tutors will encourage debate, discussion and analysis and help you develop your practical skills. By the end of your degree, you should understand the key elements of education studies and the importance of learning and teaching in the context of wider communities and society.
The course is offered by one of the university's partner colleges: Nescot, in Epsom, Surrey.
Duration
1 years full-time
2 years part-time
What you should know about this course
This course will be of particular interest to students who wish to pursue a career in teaching or further study in the world of education.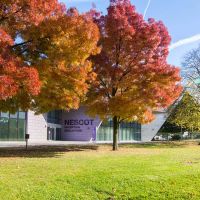 North East Surrey College of Technology (NESCOT)
The course is offered by one of the university's partner colleges.
Located in Ewell, near Epsom, North East Surrey College of Technology provides specialist courses to develop teaching and education sector professionals.
How you will learn
The following data is based on the compulsory modules for this programme.*
* Compiled from modules taught on 2023-2024 courses.
Teaching
In a typical week learning takes place through a combination of:
Learning takes place through a combination of timetabled learning and independent study.
You can view more information about how each module is taught within our 'What you will study' section.
Seminars and workshops enable you to discuss and develop your understanding of topics covered in lectures in smaller groups. You will also be able to meet your personal tutor. Timetabled learning may fall between 9am and 9pm depending on your courses and tutorials.
Overall workload
If you are studying full-time, you should expect the workload to be similar to a full-time job. For part-time students, this will reduce in proportion with the number of courses you are studying.
Each module you study towards this degree is worth 15 or 30 credits. These represent around 150 or 300 study hours respectively. If you receive 100 contact hours for a 30-credit module, you should expect to commit 200 hours to independent study to complete it successfully.
Assessment
Students are assessed through a combination of assessment methods depending on the modules chosen.
You can view how each module is assessed within our 'What you will study' section.
Each course has formal assessments which count towards your grade. Some courses may also include 'practice' assignments, which help you monitor progress and do not count towards your final grade.
Feedback summary
Information coming soon.
Dates and timetables
The academic year runs from September to June.
Full teaching timetables are not usually available until term has started. For any queries, please call 020 8331 9000.
Fees and funding
Your time at university should be enjoyable, rewarding, and free of unnecessary stress. Planning your finances before you come to university can help to reduce financial concerns. We can offer advice on living costs and budgeting, as well as on awards, allowances and loans.
| | Full time | Part time | Distance learning |
| --- | --- | --- | --- |
| Home | TBC | TBC | N/A |
Funding your study
There is a range of financial support options available to support your studies, including the Aspire@Greenwich award for study resources that many full-time students will receive.
Discover more about grants, student loans, bursaries and scholarships. We also provide advice and support on budgeting, money management and financial hardship.
Other costs
Information coming soon.
For any queries, please call 020 8331 9000.
Support and advice
Academic skills and study support
We want you to make the most of your time with us. You can access study skills support through your tutor, our subject librarians, and our online academic skills centre.
Where appropriate, we provide support in academic English and mathematics. If you need to use particular IT packages for a specific module, we provide training for this.
You can also participate in the Erasmus+ student exchange course to spend a year abroad. Benefit from international experience and develop proficiency in a European language.
Do you provide employability services?
Information coming soon.
Not quite what you were looking for?
We've got plenty of other courses for you to choose from. Browse our undergraduate courses or check our related courses below.....
Education studies at the University of Greenwich
Are you passionate about education? Whether you're working in the field or looking to start your career, our award-winning lecturers will help you get the best from your studies.
Visit our education studies degrees page.
Become an educational practitioner
---
Robert Morgan, Programme Leader talks us through the programme.
Education studies degrees
Mode of study
Select from the dropdown below.
| | |
| --- | --- |
| Course level | |
| UCAS code | |
| Duration | |
| Location | |