Microsoft Outlook is a secure multi-platform email client which integrates into your calendars, Teams meetings and OneDrive for Business.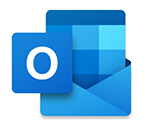 What is Microsoft Outlook?
Microsoft Outlook is a multi-platform email and calendar tool designed to work with the university's secure, cloud based email system.
Why use Outlook?
It is integrated into the Microsoft 365 suite of products and is a vital component, working in conjunction with Teams to allow meeting scheduling, calendar events and notifications.
How do I access Outlook?
Microsoft Outlook is available on every Managed Desktop computer within the university. Students and staff can install Outlook for free on their personal devices.
There are two ways to access the web-based version of Outlook:
Click on Email from the Quick Links menu at the top of the Portal (students click on Email then Outlook from the drop-down menu)
Access Microsoft Outlook through the Office 365 portal at login.gre.ac.uk
Further Help and Guidance
University Documentation
Microsoft Documentation & Videos
Why do I have to use the Outlook app on my mobile device?
The native mail clients built into Android and iOS devices do not support one of the key security technologies used to protect you and the University from a large various of malicious attacks,
Multi Factor Authentication (MFA)
. Therefore the university does not support the use of these applications and Outlook should be used instead.
Can I add my personal calendar(s) in to my Outlook Calendar?
If would like to view your personal and work calendars in the same place, you can import your personal calendar(s) from Apple iCal, Google Calendar, or Mozilla Lightning to Outlook so that they display alongside your work calendar. Follow these instructions to add your personal calendar(s) to Outlook.
How large is my M365 Mailbox, and how do I request more mail storage?
Microsoft 365 mailboxes for individuals are automatically provided with 100 GB of storage, which should be more than sufficient for your mail storage needs. You will receive alerts if your mailbox is approaching this limit.
Microsoft 365 shared mailboxes are automatically provided with 50 GB of storage. If your shared mailbox is approaching this limit, please contact IT Service Desk for advice.
Please note that email should not be used as a permanent document storage or archiving facility. Our guidelines for the use of email and guidance on keeping and processing information are designed to help us all adopt good email and information management practice.